Volunteers
Become a volunteer with BWRAC & help Australian Wildlife...
Ballarat Wildlife Rehabilitation & Conservation INC (BWRAC) relies on volunteers to do its work. We are a not-for-profit, registered charity.
BWRAC needs its members to be active and its volunteers to be passionate about the care and rehabilitation of our wildlife and their environments. Volunteering to help our native wildlife is a rewarding experience. You meet like-minded individuals who are driven to make a difference for our wildlife. We give a voice to those that do not have one.
BWRAC promotes a positive culture towards volunteering and we have implemented policies and management systems to support our volunteer involvement.
Choose how you would like to volunteer with BWRAC.
Honorary Treasurer
BWRAC is an incorporated association. We are also a registered Charity with an income tax exemption and GST concessions. In the coming twelve months we are working towards registering as an Environmental Organisation so we can apply for DGR status – deductible gift recipient with the ATO. Having DGR status will open many more doors to BWRAC to apply for different funding opportunities. We rely solely on donations and grants to fund our work, so obtaining DGR status is crucial.
We are currently looking for a dedicated and degree-qualified accountant to volunteer as our Honorary Treasurer. Seek the job description here
Wildlife Transporters
We often need people to help transport sick and injured animals. If you're interested in doing this, please contact us by emailing us at secretary@bwrac.org.au and advise of your availability: DAY ONLY / NIGHT ONLY / DAY & NIGHT / WEEKDAYS / WEEKENDS
Volunteers are an integral part of our organisation, JOIN TODAY!
Other ways to volunteer:
Join our fundraising committee
Join our Advocacy committee
Join our Governance committee
Join our Newsletter committee
Shadow a Committee Member role
Grant writing
Community education (at selected events)
Promotion/social media
Collecting wildlife food for animals in care
Assisting wildlife carers at their shelters
Fundraising
Tree planting
Producing educational resources
Organising fundraising events
Advocating for wildlife
Working bees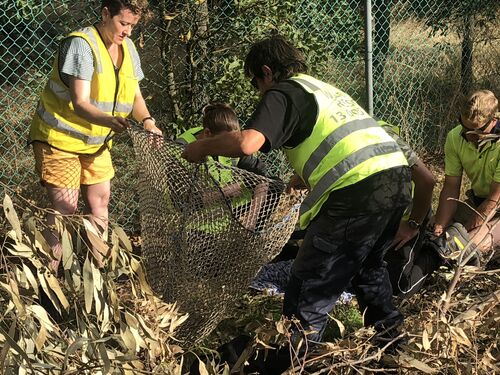 Volunteers are an integral part of our organisation, please contact us by emailing us at secretary@bwrac.org.au to discuss your volunteering with Ballarat Wildlife Rehabilitation and Conservation INC today.
Become a wildlife Rescuer
To become a wildlife rescuer, you need to complete a short course with Wildlife Victoria or a nearby shelter. Find out more at Wildlife Victoria They have a calendar of Rescue and Training events on their website.
BWRAC Helping our Wildlife and their Habitats